Description
PROMATE Kids Over-The-Ear wired Stereo headset with HD sound. Colour green
Promate Kids Headphones, Lightweight Over-Ear Wired HiFi Stereo Adjustable Headphones with Built-In Mic, Tangle Free 3.5mm Jack Wired Cord and Noise Isolating for Smartphones, Mp3, iPod, iPad, Jamz.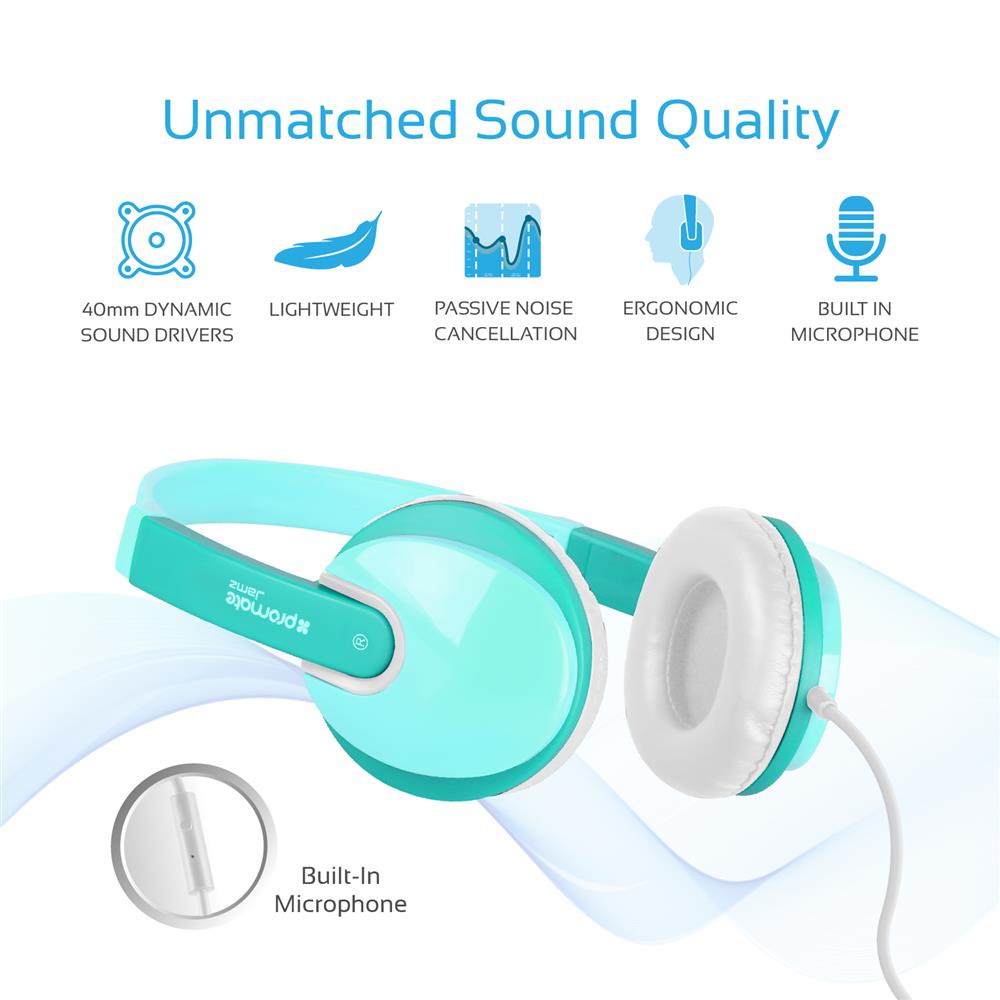 Kids can now listen to their favourite music in comfort and style while mom can be confident the volume is not being turned up too high. Jamz headphones come with fun coloured ear cups and bright coloured padded headbands. Sized for kids, these headphones are ideal for long-wearing enjoyment.
FEATURES:
High-Performance Stereo Headphones
Immersive Sound and Caring for Kids
Soft and Adjustable Headband
Sturdy Construction
Built-In Microphone
Features Noise Reduction Technology
3.5mm Connector for Superior Performance
Untangled Wires
Comfortable Build Ensures A Perfect Fit
High-Performance Stereo Headphones
The Promate Jamz combines great performance with style and function. Hear every instrument the way you were meant to with excellent frequency response and no noise bleed. Versatile and durable, these headphones lend themselves perfectly to any situation – listening to music, gaming online, working and more.
Immersive Sound In A Kid-Friendly Package
To provide high fidelity for the sound trip, Promate kids headphones adopt the most advanced auditory system. Designed for safety, Promate kid's headphones are engineered with a built-in, volume-limiting circuitry that caps the sound automatically at 105dB. Not only it permits harmful noise exposure and minimizes the risk of damaging children's hearing, but also gives parents a piece of mind, not having to monitor the volume constantly
Soft And Adjustable Headband
The adjustable headband is covered with thicken foam, which express pillow-soft and burden-free feeling after long listening sessions. It is deliberately tough and durable: no amount of grabbing, squishing and bending is going to damage it. Adjustable headband meets the requirement of all head sizes. What's more, the memory-protein cushioned earmuffs also help you minimize tiredness.
Sturdy Construction
These headphones are incredibly robust and long-lasting. At the same time, they are lightweight, and their padded and adjustable construction ensures a custom fit.
Features Noise Reduction Technology
Promate headphones feature a unique noise isolating technology to produce distortion-free bass, clear mids and super-crisp highs for a truly unique audio experience. You get to hear only want you to want to hear and nothing else. You can also be sure those next to you won't be distracted by you too.
Comfortable Build Ensures A Perfect Fit
With so little weight to them and with extremely comfortable ear pads around the ears, it's easy to see how you could forget you're even wearing the Promate headphones. Immerse yourself completely in whatever musical world you're currently inhabiting and don't let your hardware get in your way.
• Driver unit diameter: 40mm
• Sensitivity: 105dB
• Mic Sensitivity: -58dB±2dB
• Frequency: 20Hz-20KHz
• Impedance: 32Ω
• Input jack: 3.5mm
• Cable Length: 1.2m